NUTELLA SWIRL ICE CREAM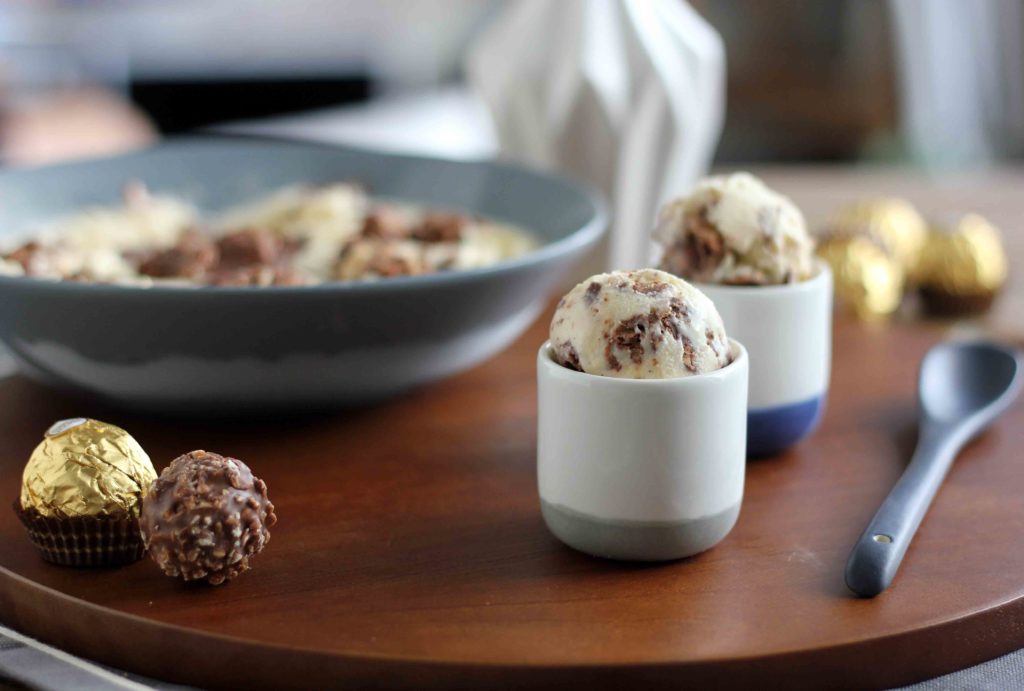 FOR THE ICE CREAM BASE:
1 cup milk (250ml)
¾ cup caster (superfine) sugar (150g)
1 vanilla bean
Pinch of salt
2 cups cream (500ml)
6 egg yolks
FOR THE MIX-INS:
200g Nutella
12 Ferrero Rocher truffles, chopped
Put the milk, sugar and salt in a small saucepan.
Split the vanilla bean lengthwise, scrape out the seeds and add them to the milk, along with the pod.
Place the saucepan over a high heat and bring the milk to just under the boil.
Remove from the heat, cover the pot and set aside to infuse for an hour.
Pour the cream into a large heatproof bowl. Place a strainer over the cream and set aside.
In a separate medium heatproof bowl, whisk the egg yolks lightly. Slowly pour the infused milk into the yolks, whisking the entire time, until combined.
Return this mixture to the pot and cook, stirring constantly with a spatula, until the mixture reaches 82 C (180 F) or until it coats the back of a spoon.
Remove from the heat and pour through the strainer into the cream.
Stir the custard and cream together, then mix in the vanilla extract.
Cover with plastic wrap and refrigerate until cold (preferably overnight).
Once the custard is cold, churn in your ice cream maker.
Pour one third of the ice cream into a freezer-safe container and top with a third of the Nutella and a third of the Ferrero Rocher. Repeat the layering process until all the elements have been used up.
Freeze the ice cream to set it, then enjoy. Makes 2 litres + mix ins.
Happy baking!